Contact Us
Ningbo Rocking Group Co.,Ltd.
Ningbo Rocking Import & Export Co.,Ltd.

Group Add: No.168 Canghai Road, Hi-tech Industry Zone, Ningbo, Zhejiang Province, China.
Head office Add: Office 401, west building of technical trade center, No.100 xiangyun road,hi-tech district,ningbo, china
Tel: 86-0574-87162491
Fax: 86-0574-87162492
Web: www.rockinggroup.com
E-mail: sales@rockinggroup.com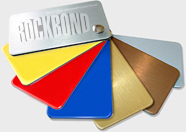 Wooden Aluminum Composite Panel
Description:
We are a main wooden Aluminum composite panel manufacturer in China. Our timber aluminum composite panel is prefinished with a premium PVDF resin-based coil coating. Therefore, it can satisfy any custom color. Wooden ACP comes in a variety of lengths and widths to provide a wide range of design and decoration needs.
Features:
1. High formability and stability
2. Low weight and large panel sizes
3. Individual design and diversity of brilliant colors
4. simple processing and excellent weather resistance

Wooden Aluminum Composite Panel
WOODEN Aluminum composite panel with PVDF coating

WOODEN Aluminum composite panel with PVDF coating