Contact Us
Ningbo Rocking Group Co.,Ltd.
Ningbo Rocking Import & Export Co.,Ltd.

Group Add: No.168 Canghai Road, Hi-tech Industry Zone, Ningbo, Zhejiang Province, China.
Head office Add: Office 1203, NO.1 building of powerlong plaza, Hi-tech district, Ningbo, Zhejiang province, China.
TEL: 0086-574-87162491
FAX: 0086-574-87162492
Mobile: 0086-13906618727
Wechat: 0086-13906618727
Whatsapp: 0086-13906618727
Web: www.rockinggroup.com
E-mail: sales@rockinggroup.com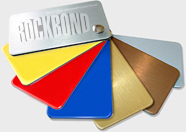 Polyester Coating Aluminum Composite Panel
Description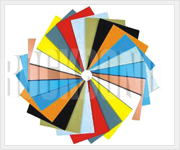 The panel consists of two sheets of corrosion resistant aluminum permanently bonded to
polyethylene core material. The front aluminum coats PE paint. Because of its excellent weather
proof and other features, the panel becomes a very popular Cladding materials in the world.
Feature
Light weight, high strength, extreme rigidity and flatness. Good weatherproofness, acid-resistance,
alkali-resistance. Outstanding color and gloss retention in a virtually limitless range of hues.
Excellent in heat insulation, sound insulation. Easily processed and fabricated, quickly installed.
Good flexibility fits various designs. Easily maintenance, simply cleaning.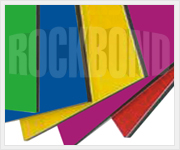 Specification
Panel thickness: 2mm,3mm,4mm,5mm,6mm
Panel width: 1220mm,1250mm,1570mm(maximum)
Panel length: 2440mm,3050mm,3200mm,3660mm
Aluminum skin thickness: 0.18mm,0.21mm,0.30mm,0.40mm,0.50mm
Structure


Application

1)Building exterior curtain walls
2)Decoration reformation storey-addition for old buildings
3)Decoration of interior walls, ceilings, bathrooms, kitchens and balconies
4)Shop's door decoration
5)Advertisement boards, display platforms and signboards
6)Wallboards and ceilings for tunnel
7)Industrial material, vehicle and boat materials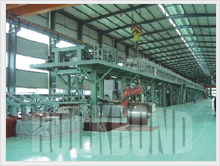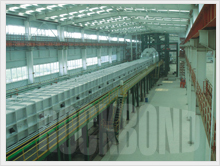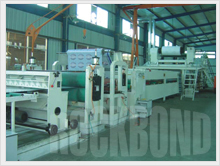 Polyester Aluminum Composite Panel
Gloss Red for design

Gloss light green for design

Gloss Blue for design

Silver Gloss for design