Contact Us
Ningbo Rocking Group Co.,Ltd.
Ningbo Rocking Import & Export Co.,Ltd.

Group Add: No.168 Canghai Road, Hi-tech Industry Zone, Ningbo, Zhejiang Province, China.
Head office Add: Office 1203, NO.1 building of powerlong plaza, Hi-tech district, Ningbo, Zhejiang province, China.
TEL: 0086-574-87162491
FAX: 0086-574-87162492
Mobile: 0086-13906618727
Wechat: 0086-13906618727
Whatsapp: 0086-13906618727
Web: www.rockinggroup.com
E-mail: sales@rockinggroup.com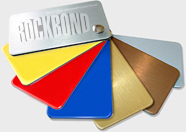 Aluminum Composite Panel
Description:
We are professional aluminum composite panel manufacturer in China. Aluminum composite panel is a kind of new material formed by combined machining technics. Its surface layer adopts paint aluminum sheet, undergoing surface treatment. Its sandwich layer adopts materials mixed by PE and PP plastics.
Categories:
If divided upon functions, Aluminum composite panels include fireproof ACP, anti-bacteria ACP and antistatic ACP. According to colors, there are paint Aluminum composite panel, brushed aluminum composite panel, mirror Aluminum composite panel, granite aluminum composite panel and metal color Aluminum composite panel. According to applications, aluminum composite panels include ACP for interior wall decoration and ACP for outer wall decoration. We also provide a wide range of Aluminum composite panels, such as PVDF, Nano-PVDF, Polyester, fireproof, wellstone color, wooden color, brush finish and mirror finish type.
Why Choose Aluminum Composite Panel?
Aluminum composite panel retains the main features of its original materials, such as metallic Aluminum and non-metal PE plastics. However, ACP can complement the shortcomings of original materials by a variety of special properties, such as high rigidity, light weight, smooth surface, weatherability, corrosion and shock resistance, fire and moisture proofing, sound and heat insulation, easy processing, transportation and installation. Due to superior materials and advanced technics adopted by us, our aluminum composite panels have passed Germany DIN, Russia Standard, England BS, Russia GOST and America ASTM. Even color of coating layer and good flatness of panel surface can satisfy the artistic needs of modern architectures. In addition, the surface layer can be maintained for a long time and does not cause any pollution to the environment. Based on the above advantages, our Aluminum composite panels have been widely exported to America, Turkey, Australia, Brazil, India and so on. They serve a wide range of fields, such as airport, dock, station, subway, shopping mall, public house, entertainment places, high-grade residential, villa, curtain wall of office building and interior wall.
In addition to aluminum composite panel, we also provide various types of coated aluminum foil coils, polymer adhesive films, solid aluminum sheets, etc. If you are finding related products, please contact us!