Contact Us
Ningbo Rocking Group Co.,Ltd.
Ningbo Rocking Import & Export Co.,Ltd.

Group Add: No.168 Canghai Road, Hi-tech Industry Zone, Ningbo, Zhejiang Province, China.
Head office Add: Office 401, west building of technical trade center, No.100 xiangyun road,hi-tech district,ningbo, china
Tel: 86-0574-87162491
Fax: 86-0574-87162492
Web: www.rockinggroup.com
E-mail: sales@rockinggroup.com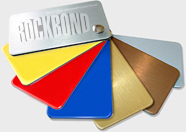 Introduction
Aluminum composite panel is a revolutionary and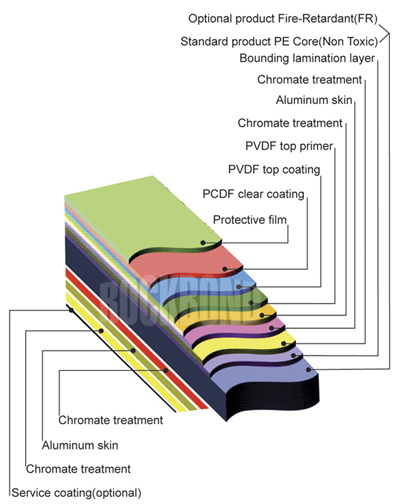 versatile
decorative panel for use in curtain wall and cladding applications. It offers fresh, modern, beautiful, creative and practical design possibilities for a variety of applications, for modern high-rise buildings satisfying every need of architects, engineers, contractors and building owners.

Standard:
According :GB/T 17748-2008, UKAS, ISO 9001:2000, ASTM
Specification:
Aluminum skin thickness: 0.50x0.50mm  0.40x0.40mm
0.30x0.30mm  0.21x0.21mm
0.18x0.18mm  0.15x0.15mm
Width:1220mm,1570mm(Maximum)
Length:2440mm,upon customer's request.

Standard Size:
1220(Width) x2440(Length)
Thickness:2mm,3mm,4mm,5mm,6mm
Normal Color:
48 kinds
Non-standard sizes and special colors are available
According to customers'request.
Application Scope:
1)Building exterior curtain walls
2)Decoration reformation storey-addition for old buildings
3)Decoration of interior walls, ceilings, bathrooms, kitchens and balconies
4)Shop's door decoration
5)Advertisement boards, display platforms and signboards
6)Wallboards and ceilings for tunnel
7)Industrial material, vehicle and boat materials
Characteristics:
1) High Peeling Strength
panel is cross link under high temperature with high-performance and molecular
binding materials, which reaches the best level for the important feature high peeling strength.
2) Superior Weathering Resistance
By means of KYNAR500 based PVDF coating resin, panel possess some
superiorities in corrosion resistance, alkali resistance, chalking resistance of ultraviolet light.
When exposed to the heat of tropical sunshine or the cold of frigid snowstorm, the panel
never loses its colorful appearance.
3) Light Weight and Easy for Process
panel is easy to process for its light weight(3.5-5.6kg/m2)which can decrease the loss
during an earthquake. The processing such as cutting, planning, bending to arc and several
configurations in right angle can be done by some simple woodworking tools. Designers can
also make the flexibility in the panel. The installation work is going to be easy and fast. For this
reason, it can save the cost.
4) Excellent Fire- Resistance Property
Its core layer is manufactured with Anti-toxic polyethylene core materials,having the combustion
resistance property. Two surface layers are made of Aluminum, which is difficult to be burnt.
Therefore, this is a kind of safe fireproofing materials, complying with fireproof demand in
building code.
5) Coating Evenness & Diversified Colors
Since applied the chemosynthesis treatment and Henkel film technology, the adhesion between
the paint and panel becomes evener, having multiple colors. There is more space for your choice
to the color with individuality.
6) Easy for Maintenance
The anti-contaminant property has been obviously improved for Aluminum composite
panel. Due to good self-cleaning capability, neutral detergent can clean the panel easily even
though the pollution is very serious.
7) Impact Resistance
The impact resistance and toughness are strong. The coating layer can not be crashed when
it's bent. The panel can not be damaged when in a strong windy and sandy condition.