Contact Us
Ningbo Rocking Group Co.,Ltd.
Ningbo Rocking Import & Export Co.,Ltd.

Group Add: No.168 Canghai Road, Hi-tech Industry Zone, Ningbo, Zhejiang Province, China.
Head office Add: Office 1203, NO.1 building of powerlong plaza, Hi-tech district, Ningbo, Zhejiang province, China.
TEL: 0086-574-87162491
FAX: 0086-574-87162492
Mobile: 0086-13906618727
Wechat: 0086-13906618727
Whatsapp: 0086-13906618727
Web: www.rockinggroup.com
E-mail: sales@rockinggroup.com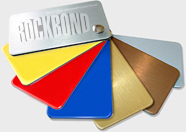 Solid Aluminum Sheet
Ningbo Rocking Group is a main solid Aluminum sheet manufacturer in China. Our solid Aluminum sheet is a new-type curtail wall material, made of superior aluminum alloy sheet, formed by NC bending technology, and coated with decorative coatings.
According to different surfaces, aluminum plates can be divided into polished Aluminum plate, matte Aluminum plate and drawing aluminum plate. These Aluminum sheets enjoy a range of good features, such as light weight, good rigidity, high strength, weatherability, corrosion resistance, even coating, easy installation, convenient maintenance, long service life and recycling. Adhesive property of Fluorin coating film makes it hard to stick any pollutes on the surface. In addition, solid Aluminum sheet can also be processed into various shapes, such as arc-shape. Thanks to superb properties, our Aluminum plates serve a wide range of places for decoration, such as outer wall of building, beam column, balcony, waiting hall, meeting room, opera, stadium, reception hall, among others.
In addition to solid Aluminum sheet, we provide aluminum composite panel, coated Aluminum foil coil, polymer adhesive film as well. Due to reliable quality and economical prices, our products are well received in America, Turkey, Australia, Brazil, India, etc. If you need any further information about our Aluminum panels, please feel free to contact us!