Contact Us
Ningbo Rocking Group Co.,Ltd.
Ningbo Rocking Import & Export Co.,Ltd.

Group Add: No.168 Canghai Road, Hi-tech Industry Zone, Ningbo, Zhejiang Province, China.
Head office Add: Office 1203, NO.1 building of powerlong plaza, Hi-tech district, Ningbo, Zhejiang province, China.
TEL: 0086-574-87162491
FAX: 0086-574-87162492
Mobile: 0086-13906618727
Wechat: 0086-13906618727
Whatsapp: 0086-13906618727
Web: www.rockinggroup.com
E-mail: sales@rockinggroup.com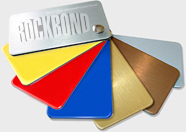 Fire-Proof Aluminum Composite Panel
Description
The panel consists of two sheets of corrosion resistant aluminum permanently


bonded to fire-resistance core material. The front aluminum coats PVDF/PE paint
and other finish design. Because of its excellent fire-resistance and other features, the panel is used in some special and important building decoration as exterior
and interior cladding materials.  It has all advantages of general aluminum composite panel and outstanding features of fire proof which has overtaken others
in the same field. It reaches GB8624B1 grade, no flame,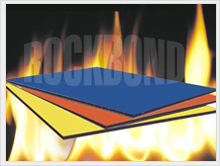 no smog, no noxious gas
and its core is tenacity and easy to process and installation.
Feature
Excellent fire-resistance feature.
Lightweight, high strength, extreme rigidity and flatness.
Acid-resistance, alkali-resistance.
Outstanding color and gloss retention in a virtually limitless range of hues.
Easily processed and fabricated, quickly installed.
Easily maintenance, simply cleaning.
Structure


Fire Resistance Panel Testing:
Items
Test method
Standard demand
Test result
Conclusion
Min. rest length of buring
GB/T 8625-88
≥0mm
330 mm
Qualified
Average rest length of buring
GB/T 8625-88
≥150 mm
422 mm
Qualified
Average smoke temperature
GB/T 8625-88
≤200℃
187℃
Qualified
Flame tips height
GB/T 8625-88
<150 mm
15
Qualified
Smoke density grade
GB/T 8627-1999
≤75 
11
Qualified
Note: Standard demand is according to difficult combustion (Class B1) materials.
Judges according to GB8624-1997, the fire performance of this material rates at class B1.
Test Item
Test Condition
Result
Conclusion
Test Standard
Height and size
Temperature of 23± 2℃
Relative humidity of 50± 10%
Flame spread at 1.5min: 60mm
Class 1
BS476:Part 7:1997
Final flame spread: 60mm
Fire safety test
Carried out in accordance with
BS476:Part 6:1989
Total Fire propagation index: 0.05
Class 0
BS476:Part 6:1989
Fire safety test
Temperature of 73± 5F
Relative humidity of 50±5%
Flame spread index: 10
Class A
ASTM E-84-04
Smoke developed value: 15
Why Choose Fireproof Aluminum Composite Panel?
1. Good fire retardancy
Core materials of fireproof Aluminum composite panel adopt nonflammable MG0H, NAOH and PE polymer. Dupont effective coupling agent is also used to enhance the fire retardancy. Our fireproof ACP is easy to process.
2. Weatherability
PVDF coating adopts HYLR5000 and KYNAR500 as the base materials, which enjoys advantages in corrosion resistance, pollution resistance and weatherability. Therefore, our Aluminum composite panel can always keep good appearance, no matter in the hot sun or severe-cold storms. coated Aluminum foil coil
3. High peel strength
We adopt USA advanced Dopont technology and raw materials to enhance the peel strength to the best condition, which has exceeded 50% of national standard. Meanwhile, the flatness of polyester Aluminum composite panel is increased.
4. Impact resistance
Dopont adhesive film, the FULLSUN and JINCHAOYANG paints, Southwest Aluminum alloy are adopted to manufacture Sky rainbow Aluminum composite panel. Due to features of impact resistance, high tenacity and durability, our polyester Aluminum composite panel can keep good shape even in wind-blown-sand's climate.
5. Even coating and multiple colors
Our company imported forming and coating production lines. Therefore, the whole process is strictly controlled by us. Through forming process and the use of film technology, the coating layer can better adhere to the metal surface. We have multiple colors for your choices.
Standard Colors:
| | | | | | |
| --- | --- | --- | --- | --- | --- |
| | Silver-flash | | Champagne silver | | Sliver grey |
| | Copper red | | Golden | | Reddish gold |
| | Metal grey | | Jade silver | | Purplish red |
| | Ivory white | | Pure white | | Blue |