Contact Us
Ningbo Rocking Group Co.,Ltd.
Ningbo Rocking Import & Export Co.,Ltd.

Group Add: No.168 Canghai Road, Hi-tech Industry Zone, Ningbo, Zhejiang Province, China.
Head office Add: Office 1203, NO.1 building of powerlong plaza, Hi-tech district, Ningbo, Zhejiang province, China.
TEL: 0086-574-87162491
FAX: 0086-574-87162492
Mobile: 0086-13906618727
Wechat: 0086-13906618727
Whatsapp: 0086-13906618727
Web: www.rockinggroup.com
E-mail: sales@rockinggroup.com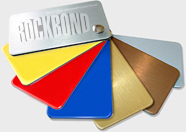 PVDF Coating Aluminum Composite Panel
Description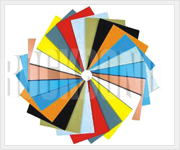 The panel consists of two sheets of corrosion resistant aluminum permanently bonded to polyethylene
core material. The front aluminum coats PVDF paint. Because of its excellent weather proof and other
features, the panel becomes a very popular Cladding materials in the world.
Feature
Light weight, high strength, extreme rigidity and flatness. Good weatherproofness, acid-resistance,
alkali-resistance. Outstanding color and gloss retention in a virtually limitless range of hues.
Excellent in heat insulation, sound insulation. Easily processed and fabricated, quickly installed.
Good flexibility fits various designs. Easily maintenance, simply cleaning.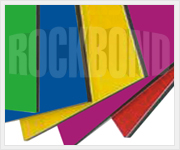 Specification
Panel thickness: 2mm,3mm,4mm,5mm,6mm
Panel width: 1220mm,1250mm,1570mm(maximum)
Panel length: 2440mm,3050mm,3200mm,3660mm
Aluminum skin thickness: 0.18mm,0.21mm,0.30mm,0.40mm,0.50mm
Structure


Application

1)Building exterior curtain walls
2)Decoration reformation storey-addition for old buildings
3)Decoration of interior walls, ceilings, bathrooms, kitchens and balconies
4)Shop's door decoration
5)Advertisement boards, display platforms and signboards
6)Wallboards and ceilings for tunnel
7)Industrial material, vehicle and boat materials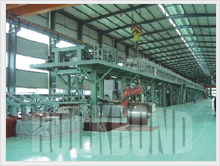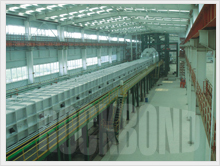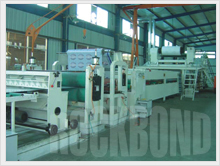 PVDF Coating Aluminum Composite Panel
Bright Red

Sea Blue

Dark White

Rat Grey

PURE WHITE

Dark Silver Grey

Pure Yellow

Yuanbao Golden

Milk Yellow

Telecom blue

Dark Pearl

Silver Amboss
Main Features:
Super weatherability
PVDF coating has special advantage in weather resistance. PVDF Aluminum composite panel can keep best appearance whatever extremely hot or frigid weather.
High peel strength
U.S.A Dopont technology and raw materials has made our PVDF Aluminum composite panels in National Top level. The peel strength of our PVDF ACP has exceeded 50% of national standard.
Impact resistance
Dopont adhesive film, the FULLSUN and JINCHAOYANG paints, Southwest Aluminum alloy are adopted. After high temperature lamination, the product can keep good shape even in wind-blown-sand's climate.
Evenly coating and customized color
We have our own stable quality control system and imported chemical and coating lines. The alloy surface is treated by chemical treatment and oxidative foils technology, giving strongly adhesive force between alloy and the coating layers. Additionally, we have many colors for your choices.
Maintenance free
ROCKBOND products have good feature of self-cleaning. If it is used in heavy polluted area, users just need to use the neutral detergent to keep the panel in new appearance.