Contact Us
Ningbo Rocking Group Co.,Ltd.
Ningbo Rocking Import & Export Co.,Ltd.

Group Add: No.168 Canghai Road, Hi-tech Industry Zone, Ningbo, Zhejiang Province, China.
Head office Add: Office 401, west building of technical trade center, No.100 xiangyun road,hi-tech district,ningbo, china
Tel: 86-0574-87162491
Fax: 86-0574-87162492
Web: www.rockinggroup.com
E-mail: sales@rockinggroup.com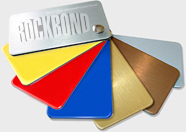 Home
>> Technology >> Processing
Processing
Saw Cutting
| | |
| --- | --- |
| You can cut panels easily running saws and panel saws for woodworking. The carbide tip blade made for aluminum composite panel is recommend preventing edge ragged. | |
Shear Cutting
Large projects can use rise and fall electricity saw, dig saw, circularity set saw and so on to cut off with beeline.
Small projects can use portable electricity saw, electro motion fret saw or handsaw and so on to cut off with beeline and curve.
Channel Processing
It's important to make the U type slotting process with a distance of 0.2-0.4 mm from the polyethylene substrate. We recommend 110° of a grooving angle for 90° bends. Panel saw or NC routing machine is suitable for large quantities U channels process.


Router and Trimmer:
Router and Trimmer: Use a modified router bit as shown in the drawing.
| | |
| --- | --- |
| Number of teeth | 2-4 |
| Number of rotations | 20,000-30,000 rpm |
| Feeding speed | 8-12 m/min |
| Material | Solid carbide or carbide tip |
Groove Cutter:
When processing a large quantity of panels, use a circular saw or
panel saw equipped with a groove cutter
| | |
| --- | --- |
| Material | Carbide tip |
| Outside diameter | 220 mm |
| Number of teeth | 18 |
| Number of rota | 3,000 to 5,000 rpm |
| Feeding speed | 10-15m/min. |
Folding
| | |
| --- | --- |
| If operated on the platform, bending part can be made very tidy. Platen puncher, plate folder or bending dies are applied as bending equipment. The recommended temperature for bending is over 10℃. | |
Bending with Press Brake
In case of bending panel with a press brake, dies shall be placed on with appropriate radius.

Notice:To avoid destroying the aluminum surface. Fiber with hardness should be added in the center and the top of the mould to protect the surface
Bending with Three Roll Bender
| | |
| --- | --- |
| Three-roller panel bender is more preferable for bending of large internal diameter to plate folder , slit the curving edge before bending, and the curved minimum inner arc radius is fifteen times than the thickness of the panel . | |
Drilling
| | |
| --- | --- |
| The drilling of panel can be achieved with twist drills normally used for aluminum and plastics on machines common for metals. By using high-speed, low feed, occasional rising of the drill and blowing with compressed air, the swarf will be rapidly removed. | |
Plane and Filing of Edges
| | |
| --- | --- |
| When using a jigsaw on panel, swarf is often left behind on the edges of the sheet. For removing this swarf and finishing off the edges, plane-cutting files work best. Files with screen-like perforated roots, or tools with very coarse or rasp-like cut are recommended for filing . | |
Rivet & Bolt
| | |
| --- | --- |
| Use an aluminum blind rivet for junction of panel. Do fixing work from the same direction, and use a stainless steel bolt/nut. Considering from deformation limit, formul e>2D is the best calculation way of aperture D and distance from hole center to plate end. | |
Welding (For core PE material only)
| | |
| --- | --- |
| The core of can be successfully welded with polyethylene welding rods or hot air gun. Reinforcement on the welded joint is recommended | |